2XL MX Offroad
1.1.7
Embark on an Offroad Motocross Adventure of a Lifetime
Do you have an interest in offroad motocross? Are you interested in racing bikes and ATVs? If yes, then this racing game is perfectly suited for your needs. 2XL MX Offroad is an exciting game in which you get the chance to race bikes and ATVs on multiple offroad tracks with up to 8 different players. It provides a number of different dirt bikes and ATVs for you to race with. Boasting of an addictive gameplay and excellent graphics, playing this game is a virtual treat. This racing game is also extremely easy to play as well thanks to its user-friendly controls. You will be having so much fun while playing this game that you will find it hard to put down.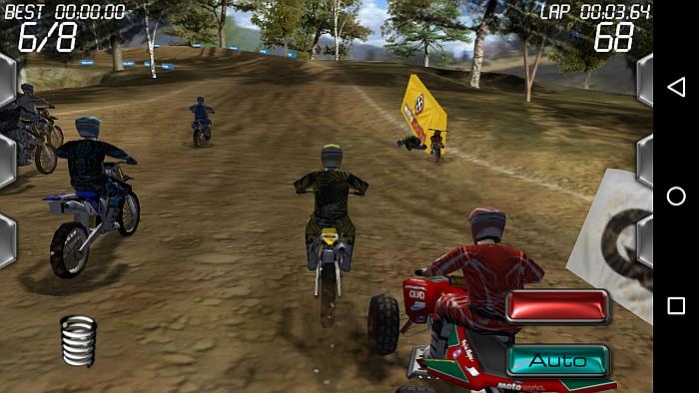 2XL MX Offroad provides you various tracks to race on. You can choose your bike or ATV and rider from an extensive selection after deciding which track you want to race on. However, it is important to keep in mind that version of this offroad motocross that is available to download is only a trial version. You will only be able to race on a single track and just one ATV or bike while the other track and vehicle options remain locked. Also locked in the trial version of the game are the rider skins. So, unless you buy the game or get the credits required for unlocking each stage by completing different offers, you will be stuck racing on a single track with just two vehicle options and a single rider skin.
If you happen to buy the game then you will be introduced to various game modes aside from just the single person race. In the single person racing mode, you get to compete with 8 different players on a track of your choice. There is a career mode available as well in the full version of 2XL MX Offroad which allows youngsters to learn how to ride a bike or an ATV and the nuances involved in racing with these vehicles. In this career mode, you are offered various achievements which you need to unlock. Moreover, since all the tracks are unlocked in the full version, you get to race on different tracks as well and truly test your off-road racing skills.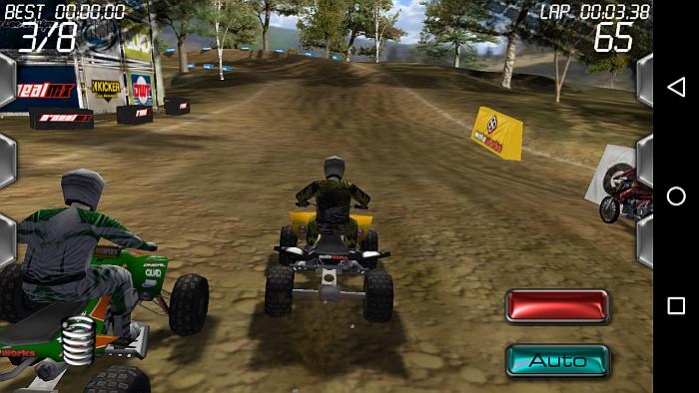 2XL MX Offroad provides a number of different presets of controls for you to play the game just like you want to play. In the options menu, you get to select whether you want to use the tilting, virtual steering wheel or buttons for controlling your bike or ATV. In addition to this, you are offered the chance to decide where you want the stunts, brakes and auto-gas buttons to be placed on the game screen. This enables you to customize the game screen according to your preferences. Aside from the incredible visuals, another highlight feature of this game is the bikes sounds that are added to it. This help in setting the atmosphere for an exciting offroad motocross adventure.
Features
Various bikes and ATVs to choose from
Extensive amount of tracks to race on
Numerous rider skins available
Multiple game modes
Compete with 8 players in single player racing mode
Unlock achievements in career mode
Various control presets available
Different camera angles to see the adventure
Multiple difficulty levels
Conclusion
2XL MX Offroad is a gaming app which is designed to appeal to both youngsters and adults. It offers them the opportunity to drive motorcycles and all-terrain vehicles on various offroad tracks and participate in races with several other racers. It is definitely a game worth having on your phone especially if you like offroad motocross.
---
Add a review
Tell us your experience with
2XL MX Offroad
1.1.7
RELATED PROGRAMS
Our Recommendations
---
---
---
---